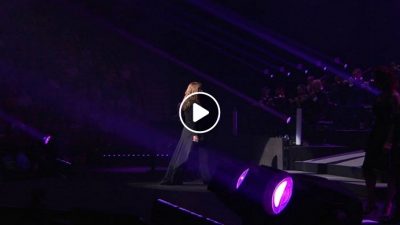 Celine Dion has taken to social media, posting a video of herself performing a cover of the late Prince's classic hit 'Purple Rain' in honour of Spirit Day.
Spirit Day is Thursday 19th October in the US, and sees millions wear purple to stand against bullying in support of LGBTQ youth, with celebrities taking to social media to show their support, and performers and celebs taking part in the Believer Spirit Day Concert.
Of course, there couldn't be a more ideal song than 'Purple Rain' for the campaign, not only for the colour which represents the day, but because Prince was considered something of a queer icon – although the label was very much at odds with his own views, which were very conservative later in life.
The 49-year-old songstress posted the video of her performance to her Facebook page, along with a message of support for those the campaign was supporting.
It's well worth a watch, with Dion's unique voice lending itself well to the popular ballad.
"Let it rain purple on #SpiritDay as we take a stand together against bullying, and to support LGBTQ youth!", Dion captioned the Facebook post in both English and her native French.